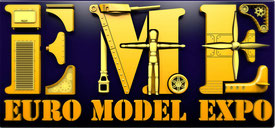 For a long time it was very quiet but. Sorry for that! Even if my last post is from christmas I was not inactive since.
Last weekend I visited the Euro Model Expo 2016 in Lingen-Germany which this year was organised in a nice new location and in a much bigger style than the years before in Heiden. This model show was definitely a travel worth it and offered a wide range of directions in plastic modelling and scales in an absolutely admirable quality. The number of stands were roughly distributed in one half of dealers and another one of exhibiting clubs. So, the show had attractive offers for everyone. Especially, the contest area invited to spend some time to gaze at many outstanding models. By the way, I also enrolled some of my latest works and won awards with three models in the end:
At the event I also presented other models together with my friends of the IG-Waterline/Modellmarine and MBC Koblenz. Others from my home club came over for visits. All of them, concluded that our team will be on board again with an own stand next year. So far, many thanks to the EME organisators for an awesome event and also thanks to the guys of the IG-Waterline for a convivial evening. I would say, see you next year guys.
Here some impressions... go to EME Website
---